Estudo comparativo das estruturas ocupacionais urbanas: Brasil e Estados Unidos
Clauber Scherer

Câmara Municipal de Vereadores de Porto Alegre

Pedro Vasconcelos Maia do Amaral

Cedeplar/UFMG

David Folch

Department of Geography, Florida State University
Palavras-chave:
Rede de cidades, Estrutura ocupacional, Brasil, Estados Unidos
Resumo
Este artigo compara a estrutura ocupacional das cidades do Brasil e dos Estados Unidos, visando avaliar a extensão em que a estrutura econômica dessas aglomerações urbanas se associa aos diferentes estágios de desenvolvimento, especificamente quando se compara um país rico com um em desenvolvimento. Utilizando um banco de dados ocupacionais harmonizado e microdados do Censo Demográfico Brasileiro de 2010 e do US American Community Survey (2008-2012), os resultados mostram que as cidades brasileiras têm uma conexão mais forte do tamanho da população com a estrutura ocupacional e a distribuição de capital humano do que a observada em cidades nos Estados Unidos. Estes resultados sugerem uma primazia mais forte das grandes cidades na rede urbana do Brasil e uma distribuição mais desigual da atividade econômica entre as cidades quando comparadas aos EUA, indicando uma alta correlação entre desenvolvimento e estrutura ocupacional.
Downloads
Não há dados estatísticos.
Referências
ATACK, J.; BATEMAN, F.; HAINES, M.; MARGO R. Did railroads induce or follow economic growth? Urbanization and population growth in the American Midwest, 1850-60. Social Science History, v. 34, n. 2, p. 171-197, 2010.
CHAUVIN, J.; GLAESER, E.; MA, Y.; TOBIO, K. What is different about urbanization in rich and poor countries? Cities in Brazil, China, India and the United States. Journal of Urban Economics, v. 98, p. 17-49, 2017.
CHRISTALLER, W. Central places in southern Germany. Englewoods Cliffs, 1966.
CUNHA, J. M. P. da. A migração no Centro-Oeste brasileiro no período 1970-96: o esgotamento de um processo de ocupação. Campinas: Núcleo de Estudos de População/Unicamp, 2002.
DINIZ, C. Desenvolvimento poligonal no Brasil: nem desconcentração, nem contínua polarização. Nova Economia, v. 3, n. 1, p. 35-64, 2003.
DONALDSON, D.; HORNBECK, R. Railroads and American economic growth: a "market access" approach. The Quarterly Journal of Economics, v. 131, n. 2, p. 799-858, 2016.
DUNCAN, D.; DUNCAN, B. A Methodological analysis of segregation indexes. American Sociological Review, v. 20, n. 2, p. 200-210, 1955.
DURANTON, G.; PUGA, D. Diversity and specialisation in cities: why, where and when does it matter? Urban Studies, v. 37, n. 3, p. 533-555, 2000.
DURANTON, G.; PUGA, D. Micro-foundations of urban agglomeration economies. In: HENDERSON, V.; THISSE, J. F. (org.). Handbook of regional and urban economics cities and geography. Amsterdam: North Holland, 2004. p. 2063-2117, 2004.
FLORIDA, R. The rise of the creative class, revisited. New York: Basic Books, 2014.
GABAIX, X.; IOANNIDES, Y. M. The evolution of city size distributions. In: HENDERSON, V.; THISSE, J. F. (org.). Handbook of regional and urban economics cities and geography. Amsterdam: North Holland, 2004. p. 2341-2378.
GALIANI, S.; KIM, S. Political centralization and urban primacy. In: COSTA, D.; LAMOREAUX, N. (org.). Understanding long-run economic growth. Chicago and London: The University of Chicago Press, 2008. p. 121-154.
GLAESER, E.; MARÉ, D. Cities and skills. Journal of Labor Economics, v. 19, n. 2, p. 3316-3402, 2001.
HEUERMANN, D.; HALFDANARSON, B.; SUEDEKUM, J. Human capital externalities and the urban wage premium: two literatures and their interrelations. Urban Studies, v. 47, n. 4, p. 749-767, 2010.
HOOVER, E. The location of economic activity. McGraw-Hill, 1948.
JACOBS, J. The economy of cities. Random House, 1969.
DE JONG, G. F.; GARDNER, R.W. Multidisciplinary approaches to microlevel studies in developed and developing countries. Elsevier Science, 2013.
KIBELE, E. Regional mortality differences in Germany. Demographic Research Monographs, Springer Netherlands, 2012.
KIM, S.; LAW, M. History, institutions, and cities: a view from the Americas. Journal of Regional Science, v. 52, n. 1, p. 10-39, 2012.
KRUGMAN, P. Geography and trade. MIT Press, 1991.
LÖSCH, A. The economics of location. Yale University, 1964.
MARSHALL, A. Principles of economics. Cosimo, 1898.
MATLABA, V.; HOLMES, M.; MCCANN, P.; POOT, J. A century of the evolution of the urban system in Brazil. Review of Urban & Regional Development Studies, v. 25, n. 3, p. 129-151, 2013.
MORENO, J.; CLOS, J. Urbanization and development: emerging futures. UN Habitat, 2016.
OECD. OECD Regional outlook 2014. Regions and cities: where policies and people meet. Paris: OECD Publishing, 2014.
RAPPAPORT, J.; SACHS, J. The United States as a coastal nation. Journal of Economic Growth, v. 8, n. 1, p. 5-46, 2003.
ROY, A. The 21st-century metropolis: new geographies of theory. Regional Studies, v. 43, n. 6, p. 819-830, 2009.
RUIZ, R. Estruturas urbanas comparadas: Estados Unidos e Brasil. Estudos Econômicos, v. 35, n. 4, p. 715-737, 2005.
SPIELMAN, S. E.; FOLCH, D.; NAGLE, N. Patterns and causes of uncertainty in the American Community Survey. Applied Geography, v. 46, p. 147-157, 2014.
UNITED NATIONS. World urbanization prospects: the 2014 revision. New York: United Nations Department of Economics and Social Affairs, Population Division, 2015.
TEITELBAUM, M. The British fertility decline: demographic transition in the crucible of the Industrial Revolution. Princeton University Press, 2014.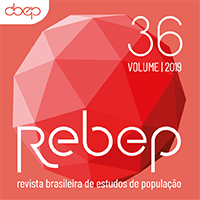 Como Citar
Scherer, C., Amaral, P. V. M. do, & Folch, D. (2019). Estudo comparativo das estruturas ocupacionais urbanas: Brasil e Estados Unidos. Revista Brasileira De Estudos De População, 36, 1-19. https://doi.org/10.20947/S0102-3098a0097
Os artigos publicados na REBEP são originais e os direitos de reprodução são da Associação Brasileira de Estudos Populacionais, Editora da REBEP. Qualquer reprodução em outro meio de parte ou todo desses deve ser solicitada por escrito ao Comitê Editorial.